Olof Kennemark – Violin
Klara Källström – Cello
Petrus Dillner – Nyckelharpa
Imagine a moment of wild freedom and peaceful respite, a moment of triggering excitement and intense contact.
And now, imagine this in all its simplicity.
Trio Törn believe that development is taking place through challenging the limits, that new heights can be reached through creative creating with the strong expression as the driving force.

Trio Törn is a meeting between three strong personalities with their roots in the swedish folk music that with the unique setting violin, cello and nyckelharpa is constantly experiment with their instruments' potential, pushing the tradition's boundaries again and again.
When they play together, mixing colorful melodies, captivating harmonies, uninhibited swing and intimacy, everything in one living unit. The listener is treated to an unique experience with great variety.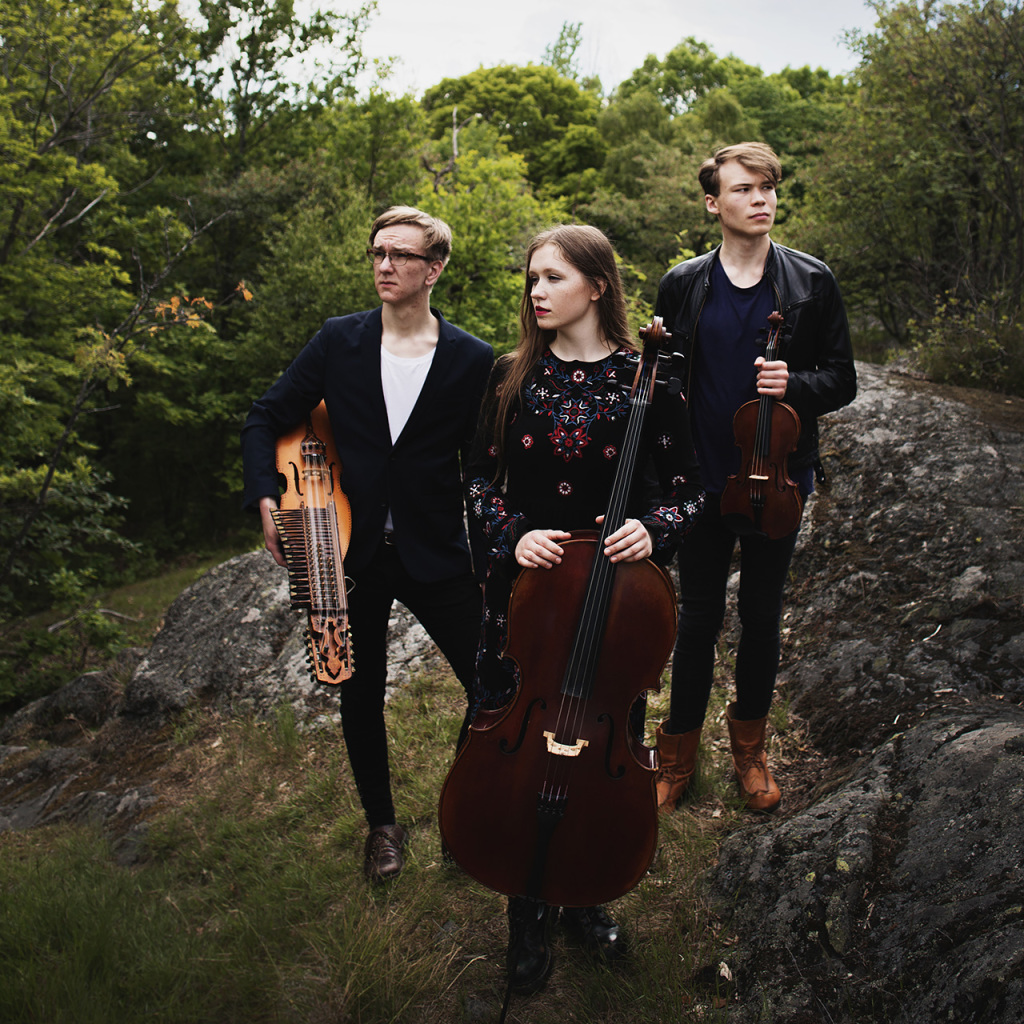 The meeting which leaves space for spontaneous ideas and improvisation, with original and captivating results.
The stage is set, excitement is present, expression is at the core.
Recorded and directed by Petter Berndalen at Playing With Music Recording Studio, Stockholm, Sweden.
Olof Kennemark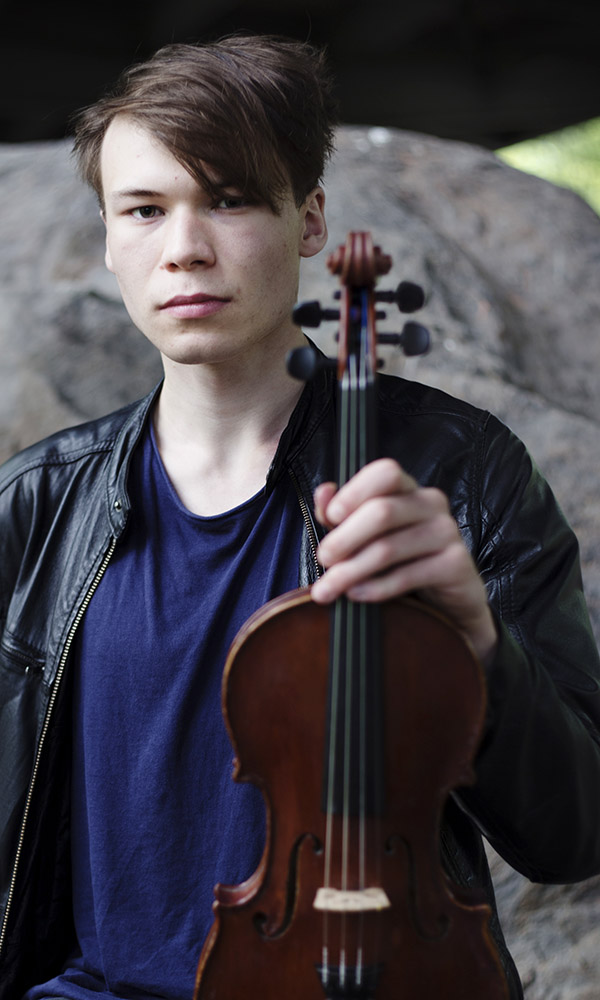 Olof Kennemark is born and raised in Gothenburg and is active as a freelance musician, composer and pedagogue with his violin raised high.
Since the age of 16 he has been touring in Sweden, Scandinavia and other countries in Europe.
Olof was rewarded with Päckos Gustafs Price of Honor with the motivation "For his dedication, his curiosity and his great musical will. For his virtuosity and passionated playing".
He has a bachelor degree in swedish folk music from The Royal Collage of Music in Stockholm and is also active in the group Lekarerätten.
Olof also has a duo with Pers Alexander Olsson and is currently working with the project Far&SonX2 (Father&SonX2) together with Hans Kennemark and Pers Hans Olsson.
---
Klara Källström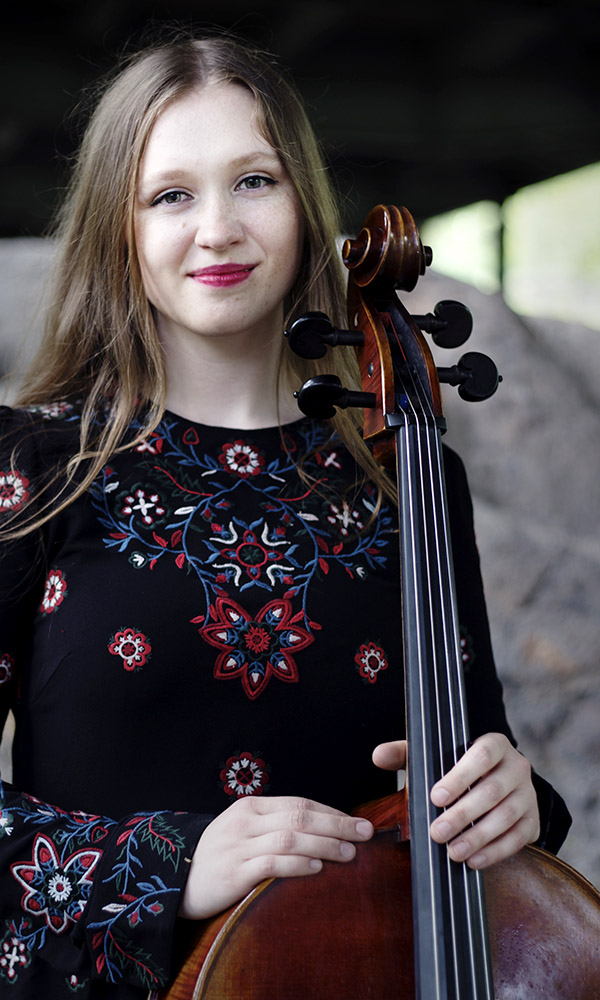 Klara Källström is born and raised i Skällom in southern Ångermanland and has been playing the cello since she was 8 years old.
Over the years Klara has developed a deep awareness in classical music as well as in the folk music tradition. She is a musician that without problem is constantly moving between different genres and styles of playing.
Klara is currently studying at The Royal Collage of Music in Stockholm. She is among other things active in the project Ol'Jansa with the flute player Göran Månsson in the lead. A collaboration that crosses the musical borders and brings new light to the old tunes by Olof Jönsson from Härjedalen in western Sweden.
She is assiduously touring in the nordic countries and Europe with the two groups Trio Törn and Duo Systrami, a duo that with their bow instruments creates distinct and rhythmical arrangement. And with two steady feet in the great nature of Ångermanland they let themselves get inspired by storms, ices and oceans.
---
Petrus Diller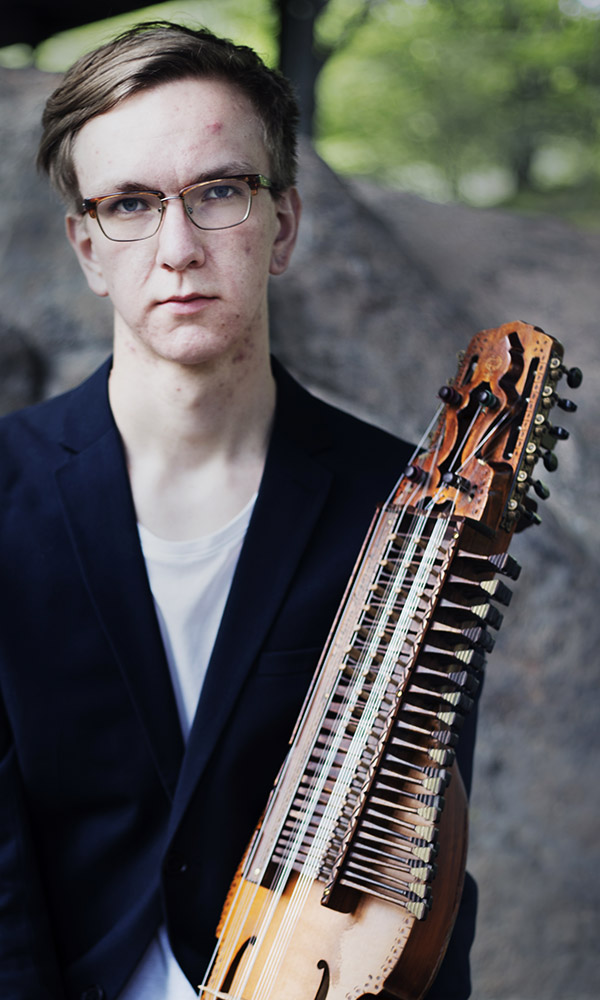 Petrus Dillner is born and raised in Marma, northern Uppland in Sweden.
He started playing nyckelharpa when he was 8 years old, and at the age of 17, he got the zorn badge in silver with the motivation "For his awareness of the tradition and his brilliant way of playing".
After several years of studying at The Royal Collage of Music in Stockholm and 6 months of studies at The Royal Conservatoire of Scotland in Glasgow he has developed a deep knowledge of the older tradition but he has also been experimenting with the opportunities within the instrument and to set the traditions to the limit in a modern way.
Petrus is also a pedagogue with great awareness and has also been playing around in Sweden and Europe with Trio Törn and the group Hans-Ers, Rutanen & Dillner that 2017 released the CD Jäkta.
---
All ovanstående text hämtad från Trio Törns webbplats 2018 02 11
Live recording in Nathan Milsteinsalen at The Royal Collage of Music, Stockholm. Julstress by Olof Kennemark.
Recorded and directed by Josefin Stacy and Elvira Glänte.
Sociala medier
Webbplats >> triotorn.se
Facebook >> triotornofficial
Youtube-kanal >> Trio Törn